Minimally Invasive Surgery Specialist
Minimally Invasive Surgery
---
What Types of Minimally Invasive Surgery Can We Perform for Patients at Rose Women's Health?
Dr. Anya Rose and Dr. Megan Gau provide several minimally invasive surgeries to female patients with varying conditions. Laparoscopic surgery is a term that covers minimally invasive surgery in general. During a laparoscopic procedure, a surgeon makes several tiny incisions and uses a special instrument called a laparoscope to work within the surgical area. The specialized equipment utilizes small video cameras to project a video image of the organs on a TV monitor. This allows greater accuracy for the surgeon. Unlike traditional open surgery which usually involves a large incision, laparoscopic surgery only requires a few small incisions, resulting in quicker recovery time and less pain for the patient afterward. We are also proud to specialize in robotic-assisted surgery using the innovative da Vinci Surgical System. Robotic surgery is similar to laparoscopy in that it is minimally invasive with few incisions, however, the equipment used involves robotic arms operated by the surgeon on a robotic platform. The technology is highly sophisticated and allows for even greater surgical precision. For patients in need of gynecologic surgery, we consult with each woman to determine the best surgical option.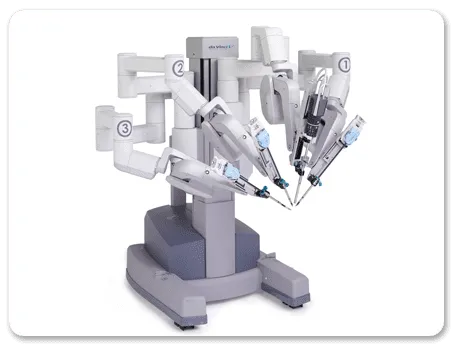 How is Minimally Invasive Surgery Beneficial to Me?
Patients often opt for minimally invasive surgery because it results in the least amount of pain, downtime, and risk. Many of these procedures can be performed on an outpatient basis. During robotic surgery, i.e. DaVinci Surgery, the procedure is guided by a robot to ensure the greatest the amount of precision is taken and reduces the chances of a surgeon's mistake. Minimally invasive procedures also reduce the amount of pain you have following your surgery since there are only a few small incisions. Smaller incisions also reduce the risk for infection, excess bleeding, complications, and result in minimal scarring.
What Conditions Do We Treat Using Minimally Invasive Surgery?
Dr. Rose and Dr. Gau use minimally invasive surgery for a variety of gynecological procedures, including hysterectomies and treating conditions like heavy bleeding, pelvic pain, endometriosis, and incontinence. A hysterectomy is a common gynecologic procedure performed on women who no longer wish to have kids or have specific conditions regarding the uterus that can be resolved or relieved with the procedure. During a hysterectomy, part or all of a woman's reproductive organs are removed, including the uterus, ovaries, and fallopian tubes. Patients who seek a laparoscopic or robotic hysterectomy will have the least amount of pain and downtime while healing much faster than with traditional surgical methods. We conduct robot-assisted surgeries for patients at the Huntington Memorial Hospital in Pasadena, CA.